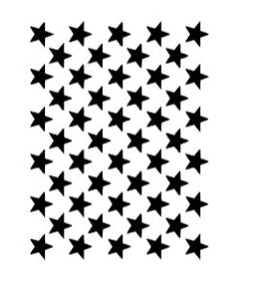 Stars 5 vinyl stencil
Includes:
- 4 sheets of stencils. 
- 4 sheets of transfer tape.
Sizes to choose from.
Small: 7.693"w - 3.132"h
Medium: 8.336"w - 3.292"h
Large: 8.913"w - 3.464"h
Will fit most shoe sizes. 
Usually ships within 1 - 2 days of purchase.
ALL payments processed securely through PayPal express checkout.
These stencils are made to easily paint designs on your sneakers, but they can also be used to place decals on cups, bottles, windows, and a bunch of other surfaces.